Advanced Technology

COMMITMENT TO NEW TECHNOLOGY
At DENTAL WELLNESS DIMENSIONS we are amazed and excited by the possibilities in dentistry today. Modern cosmetic and restorative dentistry procedures have opened up whole new areas of opportunity for patients looking to improve the function and aesthetics of their smiles. As the field continues to evolve, advances in techniques, technology and materials are making possible today what could only be imagined yesterday. We derive immense satisfaction from this continued growth and look forward to sharing these advances with our patients and colleagues.
When you seek care in our office you are assured that the latest and most appropriate technology will be utilized to enhance the quality of your dental care.

Micrsocopes – Zeiss optics ; magnification
"What the eye cannot see the hand cannot treat"
Dentistry is micro-surgery. All dental treatment performed in our facility is done with the use of magnification and microscopes. Using a similar microscope that an opthalmologist uses enables us to provide dentistry which is incredibly accurate and precise. You just can't fulfill that level of care with the naked eye.
---
Lasers
Laser technology is an integral treatment modality in our clinic. Lasers are used extensively in soft tissue surgery and treatment of many gum disorders. Conditions which in the past may have required aggressive surgery can now be performed with minimal discomfort and invasiveness allowing for accelerated healing and recovery. Commonly occurring and painful conditions such as mouth ulcers and cold sores can very easily be treated with the laser, providing instant and immediate relief of painful symptoms with shortened recovery times.
---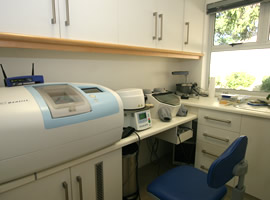 3D scanner
Dental Wellness Dimensions was the first facility in Africa to install and utilize the ultra modern Kodak 9000 cone beam scanner. Cone beam tomography (CBT) is similar to medical CAT scan technology, only more accurate, and images are obtained using a fraction of the radiation required in conventional CAT scans. In fact, the Kodak unit boasts the lowest patient radiation exposure of any machine in the world today!

This technology has become the accepted standard of care in the diagnosis of many pathological conditions and in pre-operative surgical planning. CBT is particularly useful in planning for implant surgery where important anatomical structures such as nerves or the sinuses can be accurately visualised.
---
Digital x-rays
Dental x-rays (called radiographs) are invaluable aids in diagnosing , treating and maintaining dental health. Radiation exposure time with digital radiographs is minimal. Radiographs allow us to see much that we cannot see with our eyes, enabling us to detect cavities between teeth, determine supporting bone health and levels, help examine the roots and nerves of teeth and diagnose pathology in the jaws. 
---
Sterilization
Located in the focal point of our facility behind a panoramic glass enclosure is our purpose built state of the art sterilization centre. We adhere to the highest standards of sterility and infection control and all our instruments are subject to a rigorous process of chemical washing and disinfection before being sterilized in the most modern autoclaves. Your comfort, wellbeing and safety are a foremost priority for us.
---
HYGIENISTS
Hygienists are highly trained professionals in various aspects of preventative dental care. The core of our philosophy is preventative care and as such the importance of our hygiene program cannot be over emphasized. At DENTAL WELLNESS DIMENSIONS,  we are fortunate to have a team of highly talented and committed hygienist practitioners.