Meet the Dentists
 Dr. Mike Holmes
BSc (Hons) BDS, ADEC (Australia)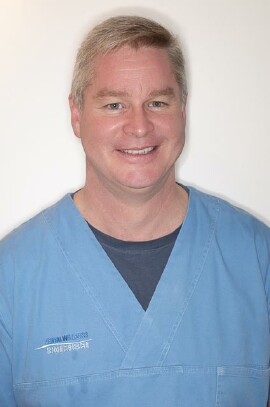 Graduate of The University Witwatersrand (Johannesburg, South Africa)
BSc Hons 1986 (Majoring in Physiology)
Bachelor of Dental Science 1990
Academic Achievements:
C. H. Wyndham Award (1986)
Awarded to the Best pre-doctoral paper presented at the Annual congress of South African Physiological Society.
C.J. Meyer Award
Awarded to the student who obtains the most outstanding Results in General Medicine and Surgery.
Amalgamated Dental
Company Medal
Awarded to the Most Distinguished graduate of the Final  Year.
Prosthodontic Society
of  S.A. Medal
Awarded to the best student in Fixed Prosthodontics in the final year.
Operative Dentistry Medal of the Dental Association of South Africa.
Awarded to the most distinguished graduate in Operative Dentistry in the final year.
Distinctions Obtained
Physiology
General Medicine and Surgery
Operative Dentistry
Maxillo-Facial and Oral Surgery
Professional Career:
Commenced Private Practice in Johannesburg in 1990.
Invited to join the part time staff in departments of Conservative Dentistry and Oral Surgery Wits University (1990 – 1994).
Immigrated to Melbourne January 2000.
Special Interests:
Cosmetic and Aesthetics Dentistry
All aspects of Bonded and Composite Resin Dentistry.
Implant Dentistry